The power of Sleepology®
Learn why healing needs to take place in a certain order
Can't sleep?
Are you exhausted and stressed?
Sleep deprivation stress and exhaustion… sound familiar?
Maybe you're feeling like time has caught up with you and you're not looking your best?
The good news is that you can look and feel amazing after kids, during a full-on career or after the menopause.
You just need to know what's gone out of balance.  Armed with this new awareness, you'll have the tools to look after yourself properly.
Health and wellbeing is never 'one size fits all', people need different amounts of just about everything.
Sleepology, designed by Anandi, is a deep enquiry into the causes of exhaustion and sleeplessness.
The Sleepology steps are defined in a particular order to give you the very best outcome.
Sleepology
Principles
Designed specifically for sleep deprivation, stress and exhaustion
Step 1 – WHY
A deep enquiry into the equilibrium of the individual constitution using Ayurvedic principles.  A balanced constitution is the foundation of wellbeing.
No more stabbing in the dark, you'll be clear about what you need.
Step 2 – How
Once we've uncovered the imbalances, I will create a programme that incorporates the principles in the right order to bring the mind and body back into equilibrium. This can take three to nine months.
Step 3 – Mind
Deep relaxation and grounding principles to create deep relaxation and mental nourishment.
Step 4 – Body
A healthy body is the foundation to living life to the full. Vitality emerges when the body is open, flexible and cleansed.
As a result your digestive fire is more efficient and your body will become strong and more youthful.
Step 5 – Rejuvenate
Rejuvenate is based on Ayurvedic nourishment of the individual constitution.  Giving your body the food it needs will enable it to digest effectively, extract what it needs and more easily eliminate what's not useful or toxic.
How does it work?
Sleepology Observations and Insights
Step 1
On booking you'll be sent links to a daily diary where you'll record your food intake and daily rituals for 7 days.  You'll also be sent a link to stress test questionnaire.
Step 2
You'll meet with Anandi for an indepth enquiry and go through your questionnaires.
Step 3
On receipt of your full report and recommendations, you'll have a second session with Anandi online to go through the next steps.

You have done so much to bring balance and harmony.  I unquestionably get more sleep during the course of each week now - and even when I wake in the early hours, you have given me the resources to find an inner peace that has alluded me for so long.  Thank you
Anandi was really warm and has a good insight into sleep problems. The report she creates is in depth and reflective of you as an individual and brings with it beneficial recommendations. I would highly recommend working with Anandi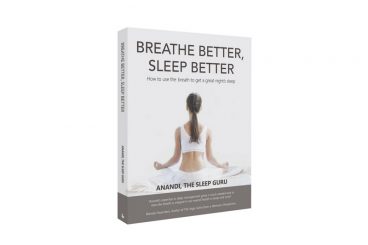 Breathe Better, Sleep Better. A step by step guide on how to work with the breathe for a better nights sleep